Essex father tells of seven-year-old son's cancer fight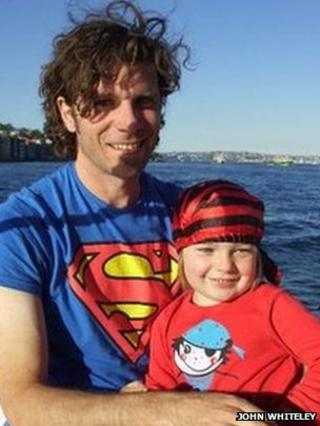 Aged just four, Laughlin Whiteley was diagnosed with an aggressive and rare brain tumour.
The golf ball-sized growth was removed in an eight-hour operation and for the next 14 months his parents Andrea and John watched as he endured painful rounds of radiotherapy and chemotherapy.
They hoped Laughlin, of Burnham-on-Crouch, Essex, would make a full recovery but in November he was found to have another rare cancer.
Doctors believe Laughlin, known as Lockie, developed secondary acute myeloid leukaemia due to the strong chemotherapy drugs he had to take after his surgery.
His father John, a primary school teacher, and mother Andrea, an actress and drama teacher, have given up their jobs while Lockie, who is now seven, undergoes more treatment.
As Lockie's "guide and chronicler", his father started a blog to help him cope and answer Lockie's questions about his illness when he is older. Here he tells his son's story.
31 August 2011
"We trimmed our hair again on the weekend, possibly for the last time for him, depending on how the radio and chemo affect it. It led to scar comparisons, which he [Lockie] won hands down as a 20-plus-year-old knee reconstruction does not really match a craniotomy."
6 September 2011
"You wonder about the disparity between what we imagined for us, for our first little boy embarking on his educational journey, and the reality of what we are actually doing.
"Rather than school shoes, it is Crocs that can be slipped off once he has been magic-milked away to the land of nod. Rather than dressing for school, it is re-dressing in bed on the ward. Rather than schools bags, it is wiggly bags [to keep venous catheters clean and safe]. Rather than teachers, it is nurses. Rather than the head, it is the consultant. Possibly the only common thing is the packed lunch and the fact that much of it goes in the bin."
18 December 2011
"A gastrostomy is scheduled for tomorrow - a relatively minor procedure that will result in a feeding tube from his tummy. Strangely the special milk is banana-flavoured even though it will be bypassing the taste buds."
22 January 2012
"The chemo must be doing its business as it is beginning to have serious side effects. There has been a significant deterioration in his vision in one eye... likely to be one of the drugs that damages nerves. Some, minor to date, hearing loss which is a side effect of one other drug.
"And there are other side effects, the ones they don't tell you about. In response to my comment, 'At least we don't have to hang around the hospital again tomorrow,' Lockie said, 'But it's not my fault!'.
"We avoid as much as humanly possible any talk that could make him feel any responsibility. But you can't shake the fact that he knows things have changed for him and for us."
6 June 2012
"Course 6/8 began yesterday, with a tailing off on some chemo, which gives mixed emotions. Lockie has been taken off Carboplatin, which has potential benefits in the short term like less sickness and less transfusions.
"But the reasons for stopping it have serious long-term implications as his hearing has continued to drop. This is irreversible, so last week's visit to the audiologist ended with him having putty squirted into each ear to make hearing aid moulds and choosing a Dalek and a Cyborg to be implanted in each."
31 August 2012
"Lockie's first words to me yesterday were: 'Today is my last treatment, yay,' accompanied by repeated fist pumps. He wanted a cake to celebrate so we embellished this with fizz and marshmallow biscuits to mark his bravery and accomplishments over the past 14 months.
"After 20 minutes of stunned incomprehension that everyone was there for him, he retired upstairs to his Lego with a select few, predominantly over 60 or under 11.
"Amid the sparkle and the joy, the hospital called. Two evenings have been spent back on Phoenix Ward for blood last night and IV antibiotics tonight due to a sizzling 39-plus degree temperature."
15 October 2012
"One of the new reception children asks every morning, 'Has Lockie's hair grown yet?'. At long last we had something to show: I whipped off his beanie to show off his virgin stubble but somehow this was not the transformation he expected. Sprouts instead of locks. Army cadet, not Rapunzel.
"At least it'll never be a mullet as the hair on the back of his head will never regain its normal cover. Life is like that now."
31 December 2012
"Farewell to the final tubes as his PEG [feeding tube] was removed last Thursday.
"It feels as if we are truly at the end of treatment, no further procedures planned, with only MRIs and blood tests on the horizon. The pump-stand by his bed has been replaced by Lego and his Buddha collection and arrangements are to be made to return the unused equipment."
16 November 2013
"There are rats in our shed and there are rats in Laughlin's marrow. Pest control is the same - more poison.
"He has developed a secondary cancer, acute myeloid leukaemia (AML). Our oncologist and haematologist said it was exceedingly rare, around one every five years.
"It is nasty and it is acute which means that it progresses quickly so needs shorter, intense treatment.
"The first course of treatment is a week or so of chemo and followed by 4-5 weeks in isolation. Once they are happy that the cancer has been wiped out as much as possible, he is then prepared for a bone marrow transplant. He would then be in isolation once more while the graft marrow gets established, for 1-6 months."
7 January 2014
"So we have hit a block. Laughlin's consultant told us the chemo has failed to make an impression.
"It is now a balancing act between what other chemo regimes might have an impact versus how sick they might make him. But he won't get to transplant at all without some reduction in the disease."
24 January 2014
"The BMT (bone marrow transplant) and haematology teams were unanimous in agreeing a suggested approach: light conditioning chemotherapy and an adult peripheral blood stem cell donor.
"Light-conditioning chemotherapy as the leukaemia has been resistant to chemotherapy to date and to reduce the risk of future toxic complications.
"Adult peripheral blood stem cell donor as this allows for high numbers of stem cells to be transplanted and to be induced to attack remaining leukaemic/host cells.
"In addition, there has been much activity about campaigning for further stem cell donors and support for children and families. We chose to name it Unlock a Life for Lockey.
"This is not just about him, but about the many other people who need stem cell donors, and a range of other supports in order to not be locked in by their diagnosis. His name obviously provides the dual themes of locks and keys."
Lockie is being treated at London's Great Ormond Street Hospital and now faces a stem cell transplant on 26 February.
His family have set up an awareness campaign - Unlock a Life for Lockey - as their son has been so moved by the plight of other children without a matching donor.
In the past, bone marrow donation was carried out under general anaesthetic, but in many cases stem cells can now be harvested from the blood in a relatively painless procedure which is similar to giving blood.
Lockie's mother Andrea said: "A swab is taken from the cheek.
"If they are a match it's a three-hour process. It's a very simple procedure."
The latest updates on Laughlin and his campaign are available on Twitter.
Unlock a Life for Lockey and stem cell charity Delete Blood Cancer is encouraging 18 to 55-year-olds to register as potential donors.