Colchester Hospital: £4.5m payout for brain injury girl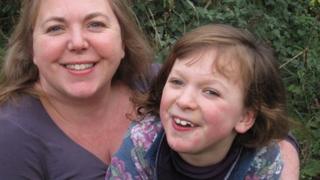 A 10-year-old girl who suffered a "catastrophic brain injury" shortly after being born at Colchester Hospital is to receive £4.5m in compensation.
The High Court heard how mistakes were made following Samantha Singleton-Parkes's birth in December 2003.
Samantha, who lives in Brightlingsea in Essex and has cerebral palsy, will receive a lump sum and annual payments.
Colchester Hospital University NHS Foundation Trust said it was "pleased" the claim had been resolved.
"This is a very tragic case surrounding the management of Samantha and her mother post-delivery," the trust said.
'Still raw'
Gail Singleton-Parkes said pursuing the claim on her daughter's behalf had had a "profound effect" on the family.
"Although it happened a long time ago and has taken some time to resolve, it is still very raw," she said.
"Samantha's settlement may seem like a lot but it will all be needed to look after Samantha on a daily basis and to secure her future needs."
Mrs Singleton-Parkes went on to thank the special care baby unit and the children's ward at Colchester Hospital for the care they had provided since the birth.
The trust said it "works hard to ensure that the quality of its healthcare services continues to improve and that lessons are learned after mistakes are made".