Essex Police were told dead Jacky Parker 'on a cruise'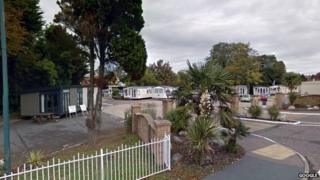 A man has admitted hiding his dead wife in a caravan and telling police she was on a cruise holiday.
Jacky Parker, 52, was found inside a caravan at Valley Farm Holiday Park in Clacton on 4 November 2013.
Mrs Parker was last seen alive on 31 October and police went to the holiday park amid concerns for her welfare.
David Parker, 50, of Evans Court in Halstead, pleaded guilty at Chelmsford Crown Court to concealing the body of Jacky Parker.
Mr Parker will be sentenced at a later date.
He has been remanded in custody for four weeks while further police inquiries into the incident are carried out.