Essex Police dog unit death to be investigated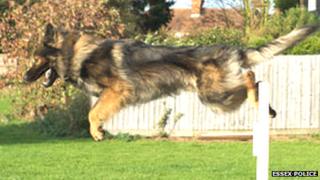 An Essex police dog died while on a training exercise, prompting an investigation.
Five-year-old German shepherd Gunner died on Saturday during an evening shift.
The death comes two months after his fellow Essex police dog Baron died after falling from a roof while on duty.
Gunner was taking part in a basic fetch and return training exercise when he collapsed.
'Very upset'
The police said he was taken to a vet in Colchester immediately but was confirmed dead.
Ch Insp Tom Simons, of Essex Police, said although the cause of death was thought to be natural causes a "review into the circumstances of his death will be carried out".
"The bond between our handlers and their dogs is very strong and the officer involved is very upset at the loss," he said.
"While they are working dogs, these animals also become a close and important member of each police officer's family."