Jay Whiston: Stabbed teenager beaten by group, court told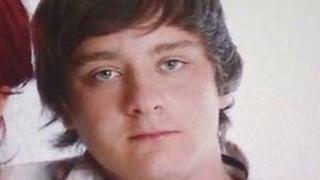 The best friend of a teenager stabbed to death told a court he saw him being beaten by a group of up to five boys.
Jay Whiston, 17, died after he was stabbed through the heart three times outside a house party in Marlowe Way, Colchester, on 8 September, 2012.
Jack Pennell, 18, said he saw Jay being beaten before the fatal stabbing.
Edward Redman, 18, denies murder. His ex-girlfriend, Shannon Fenlon, his father Gary and brother John deny related charges.
Mr Pennell told Chelmsford Crown Court how trouble had flared at the party, attended by about 100 people.
A fight broke out between two groups of teenagers over a bottle of alcoholic drink, he said.
Mr Pennell told the court he was pushed into a bush by one boy.
The fight escalated in an alleyway, he said, and he saw up to five people turn on Jay, beating him with their fists.
He said he lost sight of what was happening but later, on his way home, he was telephoned by Jay's father who told him that Jay, of Clacton, had died.
Miss Fenlon, 19, from Jameson Road, Clacton, denies perverting the course of justice.
Gary Redman, 51, of Colchester, and John Redman, 19, of Halstead, deny the same charge.
The trial continues.