Clacton sea defence tender is sent out to bidders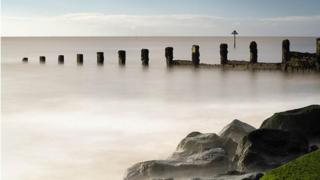 Nearly one million tonnes of sand will be mixed into an Essex beach as part of a £36m coastal defence project.
Tendring District Council got planning permission for new defences at Clacton earlier this month.
Existing timber and concrete groynes will be demolished and replaced with 23 new 'fishtail' groynes.
The Conservative-controlled council's Nick Turner said the project was the "biggest of its type being undertaken in the UK at the current time".
Five companies have been invited to tender for the work and have been told to respond with their bids for the project by Friday.
Mr Turner, cabinet member for environment and coast protection, said: "We are now really getting down to the business side of this crucial project.
"As we get to each stage in the process we are another step towards delivering this initiative which the residents of Tendring have waited for over so many years."
The granting of planning permission followed the tidal surge last December in which hundreds of homes in the Clacton area were evacuated as a precaution.