Jay Whiston 'stabbed to death after row over drink'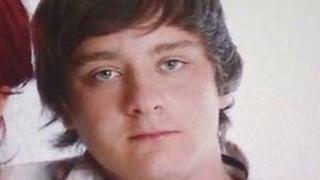 A teenager was stabbed to death in a "senseless, tragic taking of a young life" after a row over a drink at a party, a court has heard.
Jay Whiston, 17, of Clacton, died in hospital after he was stabbed twice to the chest in Colchester, Chelmsford Crown Court heard.
Edward Redman, 18, of Wayland Drive, Stanway, Colchester, denies murder.
Mr Redman's girlfriend, father and brother deny perverting the course of justice.
Prosecutor Mark Milliken-Smith QC said: "This was a senseless, tragic taking of a young life full of promise, the life of Jay Whiston.
"It is another desperate example of the catastrophe and heartbreak that results in the cowardly use of knives."
'Unease and tension'
He said the stabbing on 8 September, 2012, had not happened at a "run-down inner city estate" but on a suburban Colchester street, at a house party organised by a 15-year-old girl.
Mr Milliken-Smith said the event in Marlowe Way was "advertised to friends via Facebook and by personal word of mouth" and was attended by about 100 people.
The court heard that "numbers grew", and some people, whose presence may not have been wanted, attended.
Edward Redman and a group of friends created an "air of unease and tension" and were spreading an "air of fear", the prosecutor added.
They were older than most of the partygoers and had been drinking earlier that evening, the court heard.
'Don't want trouble'
Mr Milliken-Smith described how an incident broke out down an alleyway near the house, when a man was told to hand over his drink.
Mr Redman pushed the man, who fell back and then punched him, it is alleged.
The man handed the drink to Mr Redman. Mr Milliken-Smith said it appeared that Mr Whiston then stepped in, saying: "We don't want trouble."
The prosecutor added: "Redman clearly did."
The court was told Mr Whiston was punched and, as he staggered away, Redman followed him, saying: "I'm going to do him."
A bottle struck Mr Whiston's head, and Mr Redman stabbed him on his torso, before stabbing him again, the jury heard.
An ambulance arrived but he was pronounced dead shortly before 23:00 BST, Mr Milliken-Smith said.
Mr Redman, by now wearing no top and "realising exactly what he'd done", fled, the prosecutor added.
'Something about blood'
A taxi driver who picked up the accused said he was on the back seat "constantly receiving calls or texting".
The jury heard he said into his phone: "Just tell them there was a big fight. You don't know anything about it."
The taxi driver also said he heard "something about blood".
Mr Redman was taking the taxi to his girlfriend Shannon Fenlon's house, the court heard.
Ms Fenlon, 19, from Jameson Road, Clacton, denies perverting the course of justice.
Mr Redman's father Gary Redman, 51, of Colchester, and brother John Redman, 19, of Halstead, deny the same charge.
The trial continues.