Essex Police to scrap 'match-funded' community support officers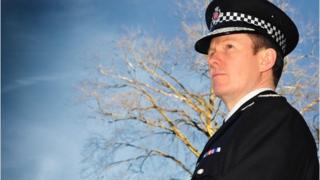 A force has been accused of putting community safety "at risk" by scrapping its match-funded team of police community support officers (PCSOs).
The 35 officers affected are part funded by Essex Police and partly by councils and other groups.
Labour critics claim the move will make people feel "more vulnerable".
But Conservative Police and Crime Commissioner Nick Alston said the PCSOs would be kept and sent where most needed.
Under the match-funding arrangements, organisations - which included parish councils, Stansted Airport and the Lakeside shopping centre - could have their own PCSO if they paid half the salary cost.
'Highly valued'
The decision to end the match-funded PCSOs, which are part of the 318 PCSOs employed in the county, was taken by Chief Constable Steven Kavanagh.
He said the withdrawal of match-funding would mean more flexibility for the force instead of being constrained by funding agreements.
Jordan Newell, chairman of the Colchester branch of the Labour Party, said the decision was "disappointing", "worrying" and would put "both community safety and public confidence at risk".
"With street lights being switched off and stories of crime littering the local media, the people of Essex will now feel even more vulnerable in light of these cuts to frontline policing," he said.
But Mr Alston said: "PCSOs will remain an integral part of the local policing model in our county."
He said the decision - which will not result in redundancies - would "ensure that these highly valued community officers can be deployed to the areas that most need them, when they need them".
Organisations, which paid more than £600,000 to match-fund PCSOs in 2012/13, will be able to fully fund a PCSO if they choose, Essex Police says.