Staffordshire bull terrier bite 'led to' owner's ruptured spleen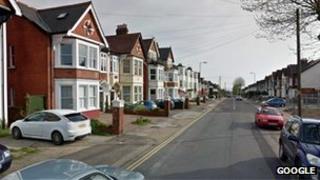 A man whose dog bit his leg has died from internal bleeding after it led to him suffering a ruptured spleen, police have said.
Barry Walsh, 46, was found in his flat on Valkyrie Road, Westcliff, on Tuesday.
Essex Police believe Mr Walsh was bitten by his Staffordshire bull terrier on the leg, which saw him suffer "an injury to his back [that then led to] damage to his spleen".
A spokesman said the dog was put down.
He said there "appears to have been an incident whereby the man was bitten by the dog" and that it was "likely that, during this incident, the man sustained an injury to his back and this then caused damage to his spleen".
The dog bites were found on Mr Walsh's lower body but it was "not possible to say how that back injury was caused", the spokesman said.
A post-mortem examination found the cause of death to be internal bleeding and the case was not being treated as suspicious.
An inquest into the death has been opened and adjourned.