Frankenstein author's letters found by Anglia Ruskin University professor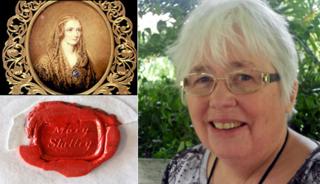 A handful of unpublished letters by Frankenstein author Mary Shelley have been found in a public record office.
Professor Nora Crook was searching for information about an author called Miss Crumpe when she came across the documents in Chelmsford, Essex.
The 13 letters had been written to stockbroker Horace Smith and his daughter, Eliza.
In one of the letters, Shelley tells how she summonsed a hairdresser at 03:00 before William IV's coronation.
Prof Crook, Emerita Professor of English Literature at Anglia Ruskin University, said Smith and his family befriended Shelley after her husband, Percy Bysshe Shelley, drowned in 1822.
'Lucky break'
Prof Crook said the letters, which date from 1831 to 1849, came to the Essex Record Office through one of Smith's daughters..
"No-one would have thought to look there for letters from Mary Shelley to Smith, as Smith had no immediate connection with Essex," she said.
"However, his youngest daughter married into the Round family from Birch near Colchester, and was the mother of J Horace Round, a famous Victorian historian who translated the portion of the Domesday Book covering Essex.
"The letters, which Smith probably kept because they involved interesting cases of literary censorship, are in the Round family papers."
She said she had "stumbled across the letters" with the help of the record office's "excellent archivists".
Prof Crook added: "You can work out how the letters came to the Essex Record Office with a bit of sleuthing, but to get to them in the first place you need a lucky break.
"Mary Shelley was on my mind at the time, although I had no thoughts of finding any letters.
"I had an idea that an anonymous review of a book by Miss Crumpe might be by Mary Shelley."
That idea turned out to be wrong but the search took her to the Essex Record Office's online archive.
It was while looking at documents there that she came across a letter from Shelley joking her father was "half in love" with Miss Crump.
"I knew immediately that the phrase had to come from an unpublished letter—and there turned out to be more," she added.
A number of Mary Shelley letters have surfaced over the past 25 years, but a sizeable cache like this is rare, said a spokesman for the university.