Wivenhoe Town goalkeeper attack: Surgery for Richie Robins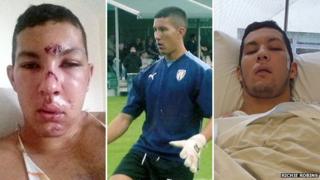 A non-league footballer who was kicked and beaten by six men while trying to protect a female friend has undergone reconstructive facial surgery.
Wivenhoe Town goalkeeper Richie Robins, 21, was set upon in the early hours of 21 December outside Subway on Queen Street in Colchester.
The 21-year-old from Clacton suffered fractures to his eye socket and cheek bones in the assault.
He must now avoid physical activity for three months after surgery on Friday.
Mr Robins, a student at the University of East London in Stratford, was trying to help a 20-year-old friend from Colchester while on a night out.
He said: "The surgery was via my mouth to create minimum scaring.
"They put my cheekbone back into place and then fixed a plate over it which should encourage my eye socket to grow back into place.
"Apparently it was a really complicated, but I'm really pleased with what they've done."
'Upsetting and frustrating'
Essex Police said the former Colchester United youth team player had been punched and knocked out before the attack continued as he lay on the floor.
Mr Robins added: "I can't go to the gym or anything like that for at least three months and I've been told I'm not allowed to chew anything for the next four weeks because this will move the plate about - but at least I'm on the road to recovery.
"I'm still having nightmares as a result of what happened, but my family have been brilliant."
A 19-year-old man from Colchester who was arrested in connection with the attack has since been released on police bail.
"It's annoying to be in this situation," said the amateur footballer.
"There's always a risk this might happen if you try and stick up for somebody, I just got the worst of what could happen - but I'd help somebody again, this was just bad luck.
"It's really upsetting and frustrating though as I'd just got a new football agent I was going to be working with and things were on the up - this is a massive setback.
"I definitely won't be playing again this season and we need to review if I'm going to be fit enough to play next season, that's probably my biggest shame."
Essex Police are continuing their investigation.