BrewDog beers stolen in Billericay warehouse raid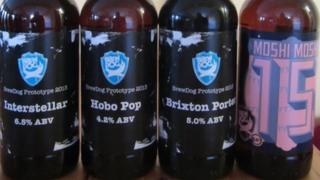 Thieves have stolen 16,000 of bottles of "rare" beer worth nearly £50,000 from a warehouse in Essex.
The beers, made by Aberdeenshire brewer BrewDog, were stolen from Ales by Mail, in Radford Way, Billericay.
The varieties taken were Moshi Moshi 15, Interstellar, Hobo Pop and Brixton Porter which are only available online or from specialist wholesalers.
They were stolen between midnight and 02:00 GMT on Monday and driven away in a lorry.
Insp Mark Rayner, of Essex Police, said: "All the boxes and bottles, regardless of flavour or type, have the BrewDog label on them so would be easily identifiable.
"We want to hear from anyone who has been offered any of these beers for sale or from anyone who has information about the burglary or any attempts to sell the bottles."
'It sickens me'
Paul Kruzycki, managing director of Ales by Mail, said he was "gutted" at the burglary and would offer a cash reward for information leading to the arrest and conviction of the thieves.
"I've spent three or four years building up this business from nothing," he said.
"The people who have done this are the scum of the earth with no regard for people's livelihoods and it just sickens me."
Mr Kruzycki said CCTV pictures showed up to 10 men loading the bottles on to a lorry which was driven off towards Billericay High Street.
"It was so heavily laden it could barely get round the corner," he added.
He said the beers stolen were prototype brews, selling for about £3 a bottle, and could not easily be sold on.
"Only the BrewDog beers were taken while others nearby were untouched, so I don't know if they were targeted or the thieves just missed the others," he said.