Matt Adkins: Basildon roundabout job bid man promoted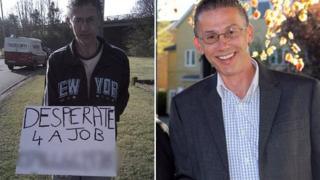 An unemployed man who stood for hours at a roundabout in a desperate search for work is now responsible for its upkeep.
Matt Adkins hit the headlines in April when he stood at the roundabout in Basildon, Essex, armed with a placard saying he was "desperate 4 a job".
The 46-year-old father of two took a role with a cleaning firm as a result.
He has now been promoted to managing the company's landscape and gardening business.
Mr Adkins, of Wickford, was offered six jobs after pitching for work at the roundabout and now works for BizziB.
'Excellent character'
He said: "I started off just doing the cleaning and seven months on I'm the manager of the landscape and gardening side, which is amazing.
"I've been given an opportunity to build up the landscape side of the business and that's what I want to do."
He is now responsible for maintaining six roundabouts in the town, but said: "That roundabout is quite a special one."
Ricky Dalton, the managing director of BizziB, said Mr Adkins was asked to run the landscaping side of the business after it emerged he had previous experience in garden maintenance.
He said Mr Adkins had been a "really great asset" to the company since joining.
"It is a credit to him because he's worked very hard. He is proactive and positive about his job.
"He has been really good. He has an excellent character and he's a great team player. He's also been winning business for us."