Wivenhoe Town goalkeeper attack: Richie Robins would help again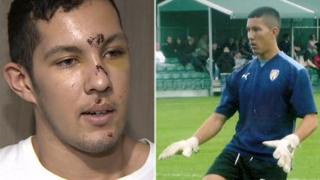 An amateur footballer who was attacked by six men while trying to protect a female friend has said it will not deter him from stepping in to help somebody again.
Wivenhoe Town FC goalkeeper Richie Robins, 21, was set upon at 03:30 GMT on 21 December outside Subway on Queen Street in Colchester.
Mr Robins, from Clacton, was left needing facial reconstruction.
He said: "If it happened again I'd do similar things."
He said it was his "nature to help people".
Essex Police said the former Colchester United youth team player had been punched and knocked out before the attack continued as he lay on the floor.
Mr Robins, a student at the University of East London in Stratford, told BBC Look East: "I hit my head really hard and went dizzy, then I blacked out for a second.
"I knew I was in trouble and was just hoping it wouldn't get any worse."
He said his dreams of modelling were "out of the window unless they are looking for a horror show or something", adding that it was unlikely he would be playing football again this season.
Mr Robins had been approached by a model scout following a fashion show he featured in at the start of December.
A spokesman for Wivenhoe FC, who play in the Eastern Counties League Premier Division, said Mr Robins suffered "severe" injuries including fractures to his eye socket and cheek bones.
He added that the club "sends Richie their best wishes for a speedy recovery".
A 19-year-old man from Colchester who was arrested in connection with the attack has since been released on police bail.