'Trauma' over Canvey Island double Santa sighting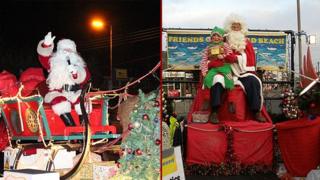 A Father Christmas was told to leave a town centre over fears children would be "traumatised" by the sight of two Santas in the same street.
Colin Letchford, from the Friends of Concord Beach charity, dressed up as Santa during the Christmas lights switch-on in Canvey Island, Essex.
The group claims he was told to pack up by a council official before the Canvey Rotary Club's Santa arrived.
It was feared seeing a pair of Santas could upset and confuse children.
Mr Letchford said the charity took its illuminated sleigh to the lights switch-on, where "lots of children had their photo taken with Santa" at no charge.
He said: "A town council officer told us we had to take our Santa away as the Rotary Club Santa had arrived at the other end of the Christmas market round the corner.
"My members were spoken to quite aggressively."
Mr Letchford said volunteers were told by the official "It's time you lot got out of here...tell them children to get away from your sleigh".
'Angry faces'
In a letter to the Castle Point Echo newspaper, Barry and Dot Palmer, from Friends of Concord Beach, a small group which aims to protect and maintain the sea water paddling pool in the town, described the incident as a "sad state of affairs".
They added: "The biggest trauma was the one clearly visible on the faces of the children queuing to see Santa when the officials turned them away, coupled with the anger on the faces of their adults."
Dave Blackwell, of Canvey Town Council, said it appeared there had been "a little bit of confusion" and "common sense went out of the window".
"All we know is somebody in a yellow tabard went and asked them to stop because it was apparently traumatising children," he told the newspaper.
Mr Blackwell has asked officials to look into the incident on 30 November.
Images courtesy of Canvey Rotary Club/Friends of Concord Beach