Man hurt in 'shocking' Christmas Day assault in Harlow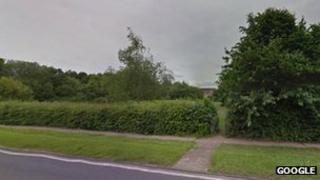 A man found unconscious with a suspected fractured jaw in an Essex park had suffered a "shocking assault" by two men, police have said.
Det Con Ryan Burgess said the 50-year-old had been "minding his own business" when he was attacked in Harlow after 23:00 GMT on Christmas Day.
He said the man could only remember his attackers as "being in their late teens to early 20s".
He added that the man also may have sustained eye and cheek injuries.
An Essex Police spokesman said the attack happened shortly after the man, who had been walking along Southern Way, took a short cut through the park.
Mr Burgess said the man had "suffered numerous blows to the head, face and hands causing him to fall to the ground unconscious where his attackers then left him".
"We are still waiting for a full update from the hospital but he is believed to have suffered a fractured jaw with further injuries to his eye sockets and cheek bones.
"This was a quite shocking assault by two young men on a man who was minding his own business, and we are keen to arrest them as soon as possible."