Rayleigh railway work causes Christmas unrest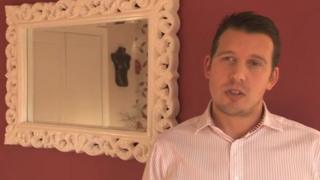 People living next to a railway line in Essex are facing three nights of disturbed sleep over Christmas because of scheduled work.
Network Rail has been using an access behind their homes in Rayleigh since the summer.
They have now received a warning letter from the firm about planned work that is to begin on Christmas Eve while services are suspended.
Network Rail has apologised that its equipment would cause disruption.
Residents want its workers to access the line elsewhere and leave them in peace.
Work is being carried out on overhead power lines and will be concentrated on the section behind the residents' homes.
Jamie Burton, whose garden is next to the access gate, said was like living on a mobile building site.
Licensed night work
"Since the summer we've been woken sometimes in the middle of the night by the noise of vehicles and machinery as well as shouting and bad language from workmen.
"Our complaints to Network Rail have had little or no effect. The noise still goes on and now we've received this letter."
Network Rail's letter said: "Work of this type must be carried out while trains are not in operation.
"With the improvement work we are carrying out in the area, our teams need to access the railway on a regular basis.
"Works will be undertaken from 23:00 GMT on 23 December to 22:00 on 26 December.
"This work will involve the use of two road rail vehicles, accessing the track at Rayleigh, to allow the inspection of the overhead line equipment on both lines between Rayleigh and Rochford.
"Under our licence conditions we are contractually obliged to work, whenever possible, at improvements during the night and at weekends.
"The equipment we use means some disturbance is unavoidable, but we will make every effort to minimise any unnecessary noise.
"Furthermore, those working on site are briefed on working responsibly in the local community."