Woodpeckers turn Essex church spire into 'sieve'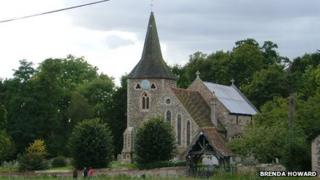 Woodpeckers have left a church spire looking like a "sieve" and needing £200,000 worth of repairs.
Churchwarden Patricia Bash said the birds had pecked their way through the spire of All Saints in Stisted, near Braintree in Essex.
The Grade I listed church has been given a grant of £197,700 by the Heritage Lottery Fund to make the building watertight.
Ms Bash said the money was "the best present we could have hoped for".
"It has been looking like a sieve, so we are really pleased to have this money," she said.
She added that the holes in the roof had allowed jackdaws to get into the spire.
A spokeswoman said the HLF would "work with a specialist buildings archaeologist to research the church's history and Natural England to ensure the preservation of bats".
She added that the repairs would also allow "wet pews [to] dry out so the congregation can sit comfortably once more".