Colchester hospital staff told 'lie to patients' over times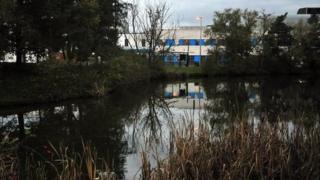 Staff were told to manipulate appointments at an under-fire hospital so the trust's figures would look better, an admin worker claims.
On Thursday, NHS England said it had found "serious failings" in Colchester Hospital's cancer services.
The worker said people who complained about practices were ignored.
A spokesman for the hospital said disciplinary action would be taken against anyone found to have acted improperly.
NHS England reviewed hundreds of cancer cases at Colchester Hospital after the Care Quality Commission (CQC) found staff were "pressured or bullied" to change data.
Essex Police is currently investigating the CQC's findings.
Earlier this week, Dr Gordon Coutts resigned by mutual agreement as chief executive at the hospital.
Speaking to the BBC on condition of anonymity, one member of staff said workers were told to book patients in cases whose waits had not breached targets.
Those whose wait for treatment had already breached the target found themselves waiting even longer.
The worker said this was not confined to cancer care but also applied to routine appointments.
'Get on with it'
"We were told to just book the patients that had not breached, so that our performance figures would look better.
"We were only allowed to let through a certain number of breaches a month, in order for our performance to look good.
"Some patients had only been on the waiting list for six weeks would be offered an appointment for their treatment, when other patients had been waiting in excess of 15 or 20 weeks.
"The attitude of management towards outside help or intervention was incredibly negative.
"Staff in general throughout the entire trust are led to believe that if anyone has to come in from the outside, that nobody would enjoy working at the trust anymore - even if they didn't already, it would be made considerably worse.
"They just told all staff to get on with it and it was essential, because if the trust was seen to be failing Monitor would come in and everyone's lives would be made difficult.
The worker said staff at all levels were "becoming increasingly frustrated and disheartened by challenging decisions that were being made that were not right and and were not fair to patients".
"A number of staff were being asked to lie to patients over reasons why they weren't getting treatment in time and why they were having to wait longer for treatment," the employee said.
A spokesman for Colchester Hospital University NHS Foundation Trust, said: "We take these claims extremely seriously and will take disciplinary action against anyone in the organisation who has acted improperly.
"If this employee has not already raised these matters, we would strongly encourage him or her to do so.
"Our trust aims to promote a culture where staff feel able to raise concerns, ideally openly or, if they prefer, anonymously.
"Part of the remit of the ongoing independent investigation is to try to establish whether or not there may be a case to answer under the trust's disciplinary policies by any employee concerned in either the handling of, or the response to, concerns that were raised."