Railway metal thief Terrence Bullock was electrocuted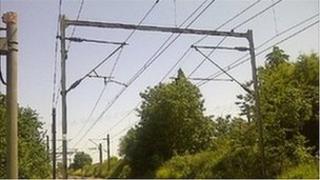 A metal thief who touched a 25,000 volt power line was "lifted into the air like a ghost", an inquest has heard.
Terrence Bullock of Canvey Island in Essex died trying to steal cable from the railway at Hadleigh, near Benfleet.
An inquest in Chelmsford heard how the 46-year-old was with accomplice Mark Bradshaw in June 2012 when he died.
Bradshaw told the hearing: "He touched the live wire... his whole body lifted up. His body went limp as soon as he touched it."
Bullock was standing on a box when he cut an overhead wire with bolt-cutters, the inquest heard.
Bradshaw, who was jailed for a year for his role in the failed theft, said: "It sparked everywhere. Terry said, 'get out of here'."
The men ran from the scene but then Bullock decided to return to get the cable, saying he needed the cash.
Bradshaw said he then watched as his friend was electrocuted.
"I knew I couldn't go near him, I panicked and ran."
A narrative verdict that Bullock died of an electric shock at the scene was recorded.