Colchester Hospital: NHS England probe finds five cancer areas 'unsafe'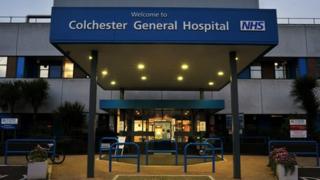 A review will be carried out into all services at a hospital after its cancer care was deemed "unsafe".
NHS England has reviewed hundreds of cancer cases at Colchester Hospital.
The investigation follows a report by the Care Quality Commission (CQC), which found staff were "pressured or bullied" to change data.
NHS England found five areas - including skin cancer and urology - were unsafe. The hospital said the main issues found were with the "processes".
Essex Police is currently investigating the CQC's findings.
Publishing its report on Thursday, NHS England said it had found problems with five cancer service areas including urology and skin cancers.
These problems were found as recently as six days ago, it has emerged.
But it also sought to reassure patients that with the heavy monitoring and intervention it was safe for patients to attend appointments.
An additional 13 cancer patients are to be recalled, the organisation said.
'Number of worries'
The report said: "A number of serious failings in cancer services organisation management and infrastructure have been identified."
This includes "unsafe information" and "unsustainable levels of staffing in key services".
It added: "More worryingly the immediate review confirmed the CQC finding that some trust staff had a lack of confidence that concerns would be listened to."
The unsafe cancer services included urology, skin, brain, sarcoma, and radiology.
Andrew Pike, Essex director of NHS England said it was "a concern" that the failings identified in the hospital's cancer services ran "deeper" within the hospital, in other areas of patient care.
An inspection of the "entire hospital" will take place in January or February, he said.
Dr Sean MacDonnell, the hospital's medical director, said: "The report identifies a number of problems in our cancer services which are extremely concerning but which we have started to address.
"However, it is important to stress to current cancer patients and their families that the main issues are with our processes - which we are determined to put right - and the report does not question the quality of chemotherapy, radiotherapy or surgery for patients with cancer.
"There is much work to do but the report also points to areas of good practice, including dedicated clinical staff and teams that work very well together."