'Dangerous' dolls probed by Essex trading standards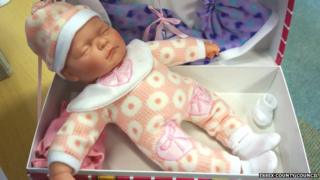 Trading standards officers are investigating claims dangerous dolls stuffed with harmful chemical pouches are being sold in Essex.
Essex County Council said it had been informed of the "suitcase dolls" after a mother bought two at a market in the Basildon area.
It said they easily fell apart and revealed chemical granule sachets, plastic discs and stuffing.
The council said anyone who bought them should return them to the retailer.
Trading Standards believe the chemical pouches, likely stuffed inside the dolls to prevent mould growth, could contain the chemical dimethyl fumarate (DMF).
It is a powerful skin irritant and as well as having the potential to cause dermatitis and eczema, and it is also associated with severe eye irritation and extreme fatigue, the council said.
'Do not touch'
The dolls could also cause choking and they have now been sent away for tests, it added.
The authority said stock has been seized from the one retailer and they are working with an Essex importer of the dolls who has agreed to a product recall.
Roger Walters, cabinet member with responsibility for trading standards, said: "If any consumer has purchased one of these dolls and they are unsure whether it is affected by the recall, they are advised to pull gently at the feet or arms or head to see whether they come off, but do not touch or remove the chemical sachet inside.
"If it fails this basic test then it should be returned to the retailer for a refund. In any event parents and carers are advised not to give dolls of this description to children this Christmas."
The dolls are said to retail for about £8 to £10 and are 18in (46cm) in length.