Colchester Hospital: Chief executive Gordon Coutts quits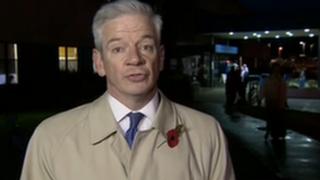 The chief executive of a hospital under police investigation over alleged manipulation of cancer waiting times has resigned.
Dr Gordon Coutts, who has been on sick leave, said he would not return to Colchester Hospital University NHS Trust.
Earlier this month it emerged he was told of concerns surrounding waiting time manipulation in 2011.
Unison welcomed the decision and said he should have gone "weeks ago".
The trust is facing three separate inquiries into the allegations.
£165,000 salary
The Care Quality Commission (CQC) said hospital staff were "pressured or bullied" to change patient records to meet government targets.
Allegations of inaccuracies in the cancer data, made public last month, prompted a review by Essex Police, Monitor, the CQC and NHS England, and saw the hospital placed into special measures.
Dr Coutts, who had a salary of £165,000 a year, did not attend a meeting of the trust board last week.
It emerged he had been aware of concerns about waiting times more than two years ago, when he received a letter from a patient.
In his response, Dr Coutts told the patient: "If you would like to provide me with any names or evidence of waiting list irregularities I will investigate this matter."
Dr Coutts, who is leaving the hospital trust by "mutual consent", said: "I realise that this is an extremely difficult time for the trust as it seeks to understand where it has failed patients in the past and seeks to rebuild confidence.
'I am sorry'
"Underpinning this will be the need to lead and support staff to deliver high quality and safe services.
"I regret that there have been problems in the trust's cancer services.
"I am sorry that some of our patients were let down and that what has happened may have damaged local people's confidence in their hospitals."
The trust said Dr Coutts will remain available to provide information as and when required to by investigators.
Tim Roberts, Unison's regional organiser, said: "Mr Coutts should have resigned weeks ago.
"He was the leader of the organisation and was ultimately accountable for patient safety.
"We hope the trust board will move quickly to recruit a new permanent chief executive who can lead the organisation out of the mess."
Sue Barnett, the deputy chief executive, will take over while transition arrangements are made and an interim CEO is identified.
The hospital said it would be recruiting a new chief executive in the new year.