Arina Durbazeva's death at Basildon Hospital showed 'serious failings'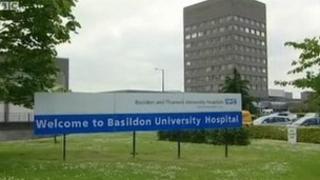 A 10-year-old epileptic girl's hospital treatment showed serious failings before she died, an inquest heard.
Arina Durbazeva, from Grays, was admitted to Basildon Hospital last year with a seizure and died after being transferred to London two days later.
The inquest in Chelmsford found Basildon had a shortage of staff and out-of-date drugs when Arina was there.
Basildon Hospital claimed two independent reviews had "transformed" paediatric services since then.
The inquest heard Arina, who had suffered from epilepsy since the age of one, had a seizure at school on 12 October 2012.
She was admitted to Basildon Hospital and had further seizures, suffered a cardiac arrest and was transferred to St Mary's Hospital, London, where she died on 14 October.
Medicines review
In the narrative verdict, the coroner said: "There were serious failings in the care provided during her time in Basildon Hospital."
In the wake of the 10-year-old's death in 2012, the hospital said it was looking at its medicines stock control.
Responding to the coroner's findings, Clare Panniker, hospital chief executive, said: "I want to say how sorry I am that we failed to provide the best care to Arina.
"I also want to assure her family that she will not be forgotten and will remain at the forefront of our minds as we seek to improve the care we provide."
The Basildon and Thurrock University Hospitals NHS Foundation Trust said reviews had been carried out.
It employed higher numbers of specialist paediatric nurses and three additional consultants, and had changed the way some children access paediatric services out-of-hours, the trust added.
It also said a review of the way it managed medicines had been undertaken to ensure they were available and in stock at all times.
Basildon Hospital was one of 14 NHS trusts reviewed earlier this year by Professor Sir Bruce Keogh due to concerns about higher-than-expected death rates and it was put in special measures.