Leisure Connection fined over chemical burns to boy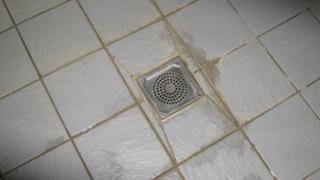 A leisure company has been fined £45,000 after a toddler suffered chemical burns to his buttock and thigh at an Essex swimming pool.
The boy slipped over near a drain in the Great Dunmow Leisure Centre changing rooms and came into contact with sodium hydroxide in February 2012.
He was taken to hospital and later required skin grafts, Chelmsford Crown Court was told.
Centre managers Leisure Connection admitted a health and safety breach.
The incident on 18 February last year was investigated by the Health and Safety Executive.
Leisure Connection were charged under section 3 (1) of the Health and Safety at Work Act, which covers a company's management of risks to people not employed by them.
'Entirely preventable'
The boy was leaving the changing room for the pool with his father at about 10:00 GMT, at the same time as a member of staff was squirting a liquid into a floor drain.
It is understood the boy slipped near a second drain, momentarily sat down and cried out.
The drain had been cleaned with a cleaner containing sodium hydroxide, a highly corrosive chemical also known as caustic soda or lye which is used to dissolve grease and hair.
The boy spent 10 days in hospital with burns to his buttock and thigh and needed surgery.
After the hearing, health and safety inspector Kim Tichias said the incident, "which left a little boy with life-changing injuries, was entirely preventable".
Leisure Connection was also ordered to pay £20,746 in case costs.
Managing director Neil King said the company "very much regret the injury sustained [by the boy] and apologise to him and to his family for the distress that it caused".
"The mistake made in the way that this chemical was handled should never have occurred," he said.
He added that the company was continuing to "invest in its health and safety management, to which it attaches the highest priority".
The fine follows a case against the company in July, which saw Leisure Connection fined £90,000 for a health and safety breach at the Blackwater Leisure Centre in Maldon in seven-year-old Michelle Gellard died.