Disabled man in Lexus rescued after driving into River Can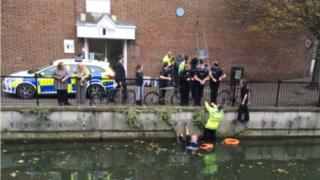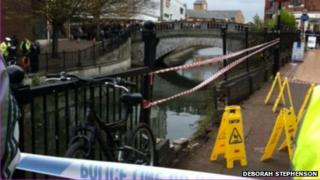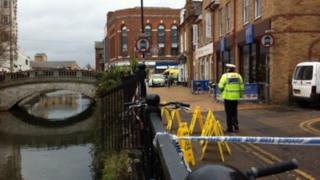 Police and members of the public helped rescue an elderly driver whose car accidentally went through railings into an Essex river.
The Lexus ended up in the River Can in the centre of Chelmsford at about 11:30 GMT in Barrack Square.
Eyewitnesses say members of the public jumped into the river to help get the driver out of the car.
It is understood one person was in the car at the time and has been taken to hospital.
The car was completely submerged in water.
It is understood the driver had been asked by builders to move his car. But rather than reversing, he ended up going forward through the railings and into the water.
A police spokesman said all three emergency services were at the scene.
Members of the public and officers went into the water to rescue the man, who is understood to be disabled.
A number of people - including the police officers - have been seen by paramedics.