Essex caesarean pregnancy 'not full term'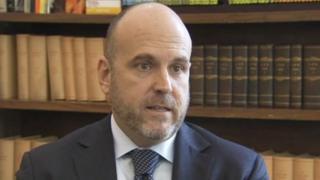 A lawyer of a woman forced to undergo a Caesarean section and give her baby up for adoption says it happened about a month before she was due to give birth.
The baby girl, whose mother is Italian, was taken into the care of Essex County Council social services.
Stefano Oliva, who previously described his client's treatment as "brutal" and "invasive", said the woman's pregnancy had not gone full term.
The council has said it had "exhausted" all options before pursuing adoption.
The mother is reported to have come to Britain while pregnant to attend a training course with an airline at Stansted Airport in Essex.
After refusing to take her bipolar medication, she had "a number of very intrusive paranoid delusions" and was "profoundly unwell", a judge said.
'Understands problems'
She was sectioned under the Mental Health Act on 13 June 2012 and a Caesarean carried out in August 2012.
Judge Newton, sitting at Chelmsford County Court, ruled in February that although the mother's condition had improved and she was "extremely well" when she gave evidence, adoption was the best way to provide "a permanent, predictable and stable home" for the child.
Mr Oliva said the woman, who has two other children, had seen the baby once a week while she remained in the UK, and then once a month after her return to Italy in October 2012.
The last time she saw her child was more than six months ago, in May this year, Mr Oliva told BBC Radio 5 live's Victoria Derbyshire.
"She understands she has some problems and understands that she needs the help of her family," he added.
"My client is seeing the two older children on a regular basis. They live with the grandmother but they see my client anytime they want.
"She would be glad if a judge understands she is not claiming to have babies by herself, but with the protection of the wide family."
He added the woman was imagining a "better future for her and her three children in the US", where an aunt of her eldest children lives.
'Best interests'
A spokesperson for North Essex Partnership NHS Foundation Trust said the case had been "an extremely difficult and traumatic situation" for all concerned and the pregnancy made it "very difficult" to treat Ms X "as medications would have affected the unborn child".
The trust added: "The application for the C-section was made to the Court of Protection by the obstetricians to ensure the safety and wellbeing of both mother and baby.
"Ms X was extremely unwell and remained in hospital for some time after the birth for treatment of her mental disorder.
"We can see why this is such a troubling case but it hinges on the difficult balance of the best interests of the mother and baby."
The council said social services took the baby into care because "the mother was too unwell to care for her child".