Caesarean and adoption mum's treatment 'brutal and invasive'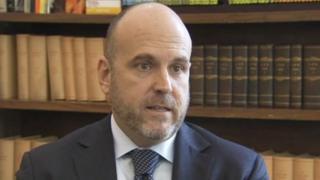 A lawyer for a woman forced to undergo a Caesarean section and give her baby up for adoption has claimed her treatment was "brutal" and "invasive".
The baby girl, whose mother is Italian, was taken into the care of Essex County Council social services.
Stefano Oliva said it was like a case under Hitler or in North Korea.
The council said it had "exhausted" all options before pursuing adoption. The judge who approved the move said she was "profoundly unwell".
Mr Oliva told the BBC in Rome: "I've been a lawyer for 20 years. I've never seen something like this.
'Such invasive treatment'
"Judges can have a different opinion than you, or not look at the papers correctly, but in the particular case I've seen pure brutality.
"Such an invasive treatment of my client, forcing birth from her - I can't think that any Italian judge would have done it under any circumstance."
Judge Newton, sitting at Chelmsford County Court, ruled in February that although the mother's condition had improved and she was "extremely well" when she gave evidence, adoption was the best way to provide "a permanent, predictable and stable home" for the child.
The mother is reported to have come to Britain while pregnant to attend a training course with an airline at Stansted Airport in Essex.
After refusing to take her bipolar medication, she had "a number of very intrusive paranoid delusions" and was "profoundly unwell", the judge said.
She was then sectioned under the Mental Health Act on 13 June 2012.
The Court of Protection took the unusual step of giving a health trust permission for doctors to carry out a Caesarean section in August 2012, and the newborn girl, known as P, was taken into care by Essex social services.
The council said social services took the baby into care because "the mother was too unwell to care for her child".
In October, it obtained permission to put the baby up for adoption.
'She's getting treatment'
The woman told an Italian newspaper that she was sedated, and when she woke up, the baby had been removed from her womb and taken away.
The woman, who is now back in Italy and being treated for her bipolar condition, talked of her extreme suffering as a result of what she had been through.
Mr Oliva said: "To snatch children from their own family has happened in history, under other regimes in which there was no democracy - think of the Hitler Youth or the gathering of children in North Korea.
"You can't think of this happening in a Western European country, a European Union country."
He said pregnant women must be able to travel safely and decide in which country their children should be born.
"She's a mother. And like all mothers, she wants to be with her daughter. She realises that she has problems," he said.
"She's now getting treatment, she's doing better, she has a job. She has proved to the Italian social services that she is trustworthy."
'Mother loved her'
Judge Newton said: "I am sorry to say it but the way in which the case has unfurled is that I am not able to say that P can return to the care of her mother.
"There is no-one within the wider family who can look after P even though the father attempts to put himself forward but it is not, if I may say so, a starter."
He concluded his ruling to say: "If in later life P reads this judgment, as she may well do, I hope that she will appreciate that her mother in particular loved her and wished for her to return to live with her and to bring her up.
"It is not her fault, nor P's that that was not possible and that a predictable home could only be secured by way of adoption.
"P should know that the mother very much wished to parent her and bring her up and I hope that that is some small comfort both to the mother and also to P."