Essex Police officer resigns after crash 'fraud' claim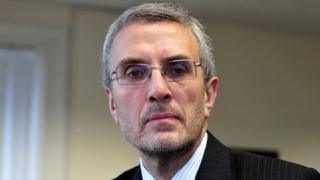 A police officer has resigned from the Essex force after allegedly submitting a fraudulent compensation claim for injuries sustained in a road crash.
The special constable was involved in a crash while on duty but lied about how it occurred and claimed compensation from the force, according to documents.
A criminal investigation was launched but later dropped and the matter dealt with internally as gross misconduct.
An Essex Police spokesman said the officer had since resigned.
He said the misconduct case had now been closed but declined to comment further.
'Deep concern'
The allegations were among a number made against Essex Police officers and civilian staff between October 2012 and the end of September.
They are outlined in reports from the force's professional standards department, released by Essex's police and crime commissioner Nick Alston last week under the Freedom of Information act.
Some of the allegations are still under investigation, some have been disproved and others have been heard by the courts.
Mr Alston said some of the allegations, which included claims of rape and sexual assault, were of "deep concern".
Between 1 October 2012 and 30 September this year, 852 complaints against the force were "finalised". Of these, 9.5% were upheld.
One of the heavily-redacted reports said the special constable, whose name and gender has not been revealed, suggested they were injured in the accident while on duty and claimed compensation from the force.
"An initial payment was made, but suspicions were raised," it said.
The officer was asked to provide evidence of loss of earnings and produced an invoice that was "believed to have been fabricated", it said.
The special constable was arrested and granted bail while the matter was investigated by the force's economic crime unit.
A further document shows the Crown Prosecution Service decided to take no further action.