Clacton Christmas 'twig' tree replaced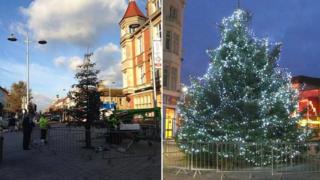 A town centre Christmas tree labelled "a twig" by critics has been replaced by a new specimen twice the size.
The original 15ft (5m) tree was given to Clacton by the Federation of Small Businesses (FSB) and put up in the Town Square.
But Tendring District Council took it down saying it was "not man enough for the job".
Speaking about the new tree, council leader Peter Halliday said: "Christmas is truly back on in style."
Ian Wickes, of the FSB, said the new tree was "lovely" adding the organisation had been "needled appropriately" about the previous tree.
The smaller tree will be donated to charity.