WWI hero Herbert Columbine statue on show to public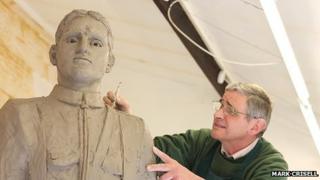 A statue to a forgotten Essex soldier posthumously awarded the Victoria Cross for his bravery in World War One has gone on public show for the first time.
Pte Herbert Columbine, of 9 Squadron Machine Gun Corps, died holding his position against enemy fire in France, allowing his companions to escape.
Sculptor John Doubleday displayed a clay model of what will be the bronze statue in his Great Totham studio.
People from Walton-on-the-Naze have raised £60,000 for the memorial.
Artist John Doubleday, famous for his sculptures of The Beatles in Liverpool and Charlie Chaplin in Leicester Square, was commissioned to sculpt the 7ft (2m) bronze of Pt Columbine, who was from Walton.
'Enough generals'
He said he believed it to be the only statue in the UK commemorating the actions of a private soldier.
"There are enough generals to commemorate but the guys who did the job were the private soldiers."," said Mr Doubleday.
The clay likeness of Pte Columbine used about two tonnes of clay supported by a steel structure.
A wax mould will now be made and the bronze poured into it.
Pte Columbine was 24 when he died on 22 March 1918, eight months before the end of the war.
Self-sacrifice
He took control of a machine gun which he fired continuously from a trench in Hervilly Wood in France.
He repelled heavily armed enemy soldiers and gave his colleagues the chance to escape by continuing to fire until killed by a shell.
Mr Doubleday had six relatives involved in WW1 - four of whom survived - and firmly believes the self-sacrifice of soldiers in that war should not be forgotten.
"The idea finally of a private soldier being commemorated as a symbol of the hundreds of thousands of lives squandered is the right thing," he said.
"I take the job very seriously."
The statue will be unveiled on Walton seafront on 2 August, as part of the commemorations to mark the 100th anniversary of WW1.
Herbert Columbine has no known grave. His name is engraved on the Pozieres Memorial, three miles North East of Albert, in France.