Colchester Hospital: 40 staff complaints in 18 months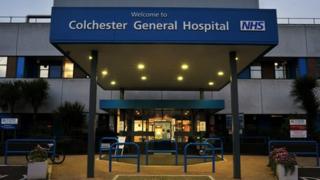 Nurses at a hospital placed in special measures have made more than 40 complaints about staffing levels over the past 18 months, a union has said.
The Royal College of Nursing (RCN) said details of the claims had been passed on to Colchester Hospital.
The RCN said one complaint - that pressure was placed on staff to falsify records - was being investigated by its lawyers due to its "seriousness".
The hospital said it was was working with the RCN.
A Care Quality Commission (CQC) report this month found that staff were "pressured or bullied" to change information on patients and their cancer treatment, to make it seem that people were being treated in line with national guidelines.
Calls to police
Allegations of inaccuracies in the cancer data prompted a review by Essex Police, Monitor, the CQC and NHS England, and saw the hospital placed into special measures.
But the RCN said its lawyers were investigating a claim that other figures relating to treatment elsewhere in the hospital had also been changed.
Karen Webb, the RCN's eastern regional representative, said: "Since last summer, we've had over 40 complaints from staff relating to staffing levels both overnight and in certain departments.
"We've passed those to the trust. We've had one complaint about the manipulation of data that did not relate to the cancer department.
"Because of the seriousness of that complaint we've asked our legal team to investigate."
Ms Webb said she regarded the number of complaints as "high", adding that the RCN had not received that level of complaints elsewhere in the eastern region.
A spokesman for Colchester Hospital University NHS Foundation Trust said: "We are concerned by what the Royal College of Nursing is saying.
"We are working proactively with our local and regional RCN representatives to understand their concerns more fully."
An Essex Police spokesman said: "We have received 13 calls from patients and their relatives raising concerns about cancer treatment at Colchester Hospital.
"None of those calls have involved criminal allegations. Where appropriate and with the caller's consent, that information will be passed to the NHS England incident management team to consider."