Stop Stansted Expansion in Airports Commission High Court ruling call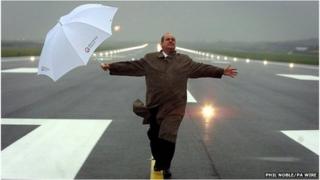 Criteria underpinning decisions over new runways are "infected by apparent bias", a campaign group claims.
The Airports Commission was set up in 2012 to examine runway capacity and future "connectivity needs".
Stop Stansted Expansion (SSE) claims a former commissioner had a conflict of interest and says the High Court should delay any publication of options.
The Department for Transport denies claims of bias and said "decisions taken to date are robust".
At the High Court in London, Mrs Justice Patterson said she will make a decision on the matter in writing at a later date.
The campaign group's claims centre on the role of Geoff Muirhead, who is a former former chief executive of Manchester Airports Group (MAG), the owners of Stansted since February.
In September, he stepped down as one of the five commissioners appointed by the Commission after SSE warned Transport Secretary Patrick McLoughlin they would take legal action if he stayed.
SSE claims he retired as MAG's chief executive after 22 years with the group but was then immediately reappointed as "a highly paid ambassador to MAG, a role he continued to fulfil even after he was appointed to the Airports Commission".
'Acted properly'
Brian Ross, SSE's economics adviser, said: "With proposals on the table from MAG to make Stansted the world's busiest airport with four runways handling up to 160 million passengers a year, there is far too much at stake to allow the issue of apparent bias to go unchallenged.
"For almost a year, Mr Muirhead was allowed to play a pivotal role on the commission as its only commissioner with first hand knowledge and experience of the aviation industry."
Mr Ross said it was not enough simply to remove Mr Muirhead from the Commission.
SSE wants the High Court to order the commission, chaired by Sir Howard Davies, "to re-visit certain key decisions made by the Commission during the time that Mr Muirhead was involved".
The Department for Transport maintain that Mr Muirhead "acted properly" at the commission but stood down to "avoid any perception of a potential conflict of interest".
A DfT spokesman said: "Both the department and Sir Howard agree that there is no evidence whatsoever of bias and the Airports Commission is content that decisions taken to date are robust."
An Airports Commission spokesman rejected SSE's claims and described its processes to date as "appropriate and robust".
The spokesman said its selection criteria "were informed by public consultation and incorporate a wide range of environmental, economic and social factors - including local environmental issues such as impacts on landscape and the built heritage."