Colchester Hospital penalty over discharge plan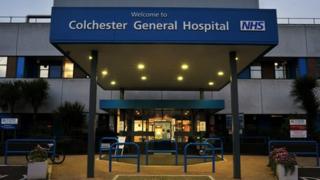 A hospital placed in special measures over data "inaccuracies" has lost £60,000 of funding for failing to meet its targets.
Colchester Hospital missed its 98% target of writing a discharge summary for patients within 24 hours over the past six months.
The hospital said it had an action plan that aimed to improve the service.
The local commissioning group withheld a payment of £60,000 for missing the target.
Separately, police are investigating the hospital, which was placed in special measures last week, over its cancer waiting times.
Hospitals are obliged to write a discharge summary to a patients' GP within 24 hours of leaving so their on-going treatment at home and medicines can be organised.
'New quality strategy'
In April this year, 92.5% of patients were provided with the summary within a day, but this figure dropped to 83% in June and only 80. 4% in September.
A spokesman for Colchester Hospital said: "The Trust believes that communications with other health care providers, including GPs, is a very important part of our work.
"It is an area that we are focusing on and features in our new quality strategy, which is why the Trust is implementing an action plan to improve both the quality and timeliness of the electronic discharge summaries we send out."
The North East Essex Clinical Commissioning Group (CCG), which pays for hospital services, said it understands that one of the reasons the hospital have not yet met the target is the delay in implementing their forthcoming electronic system.
The CCG spokesman added: "We are obliged to enforce the contract penalty, as this is a matter of patient safety. When a patient is discharged, and still has ongoing health issues, it is very important that their GP is advised of all information from the hospital as quickly as possible.
'Data inaccuracies'
"For example, if medication is changed or the effects need monitoring, that is key information for the GP."
Health regulator Monitor put the hospital in special measures after ruling that data "inaccuracies" meant the hospital had breached its licence to provide health services.
Health trust chief executive Dr Gordon Coutts said its priority was the safety and well-being of patients.
However, union Unison, which represents many NHS workers, called for a change in leadership and said there had been a "loss of confidence" in the trust's board.