Essex County Council's Colchester 'lights off' plan postponed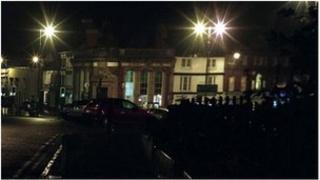 Proposals to turn off street lamps in an Essex town have been postponed for further discussion.
Essex County Council had previously agreed to switch off some lights in Colchester for five hours between midnight and 05:00.
The Conservative-controlled council said its proposals would save it money and cut energy consumption.
But the plan has been "called in" by a Liberal Democrat councillor which means it must be discussed further.
Across the county, council leaders said they hoped reducing street lamp hours would save £14m over a 13-year period.
Most of Colchester's lights would be switched off under the proposals.
But some lights - such as those in the town centre, at key road junctions and those installed for safety reasons - would remain switched on.
A spokesman for the county council said: "A meeting will be conducted shortly to discuss the reason for the call-in and to agree a way forward."
Stephen Robinson, the Liberal Democrat councillor who called in the decision, said he was concerned about how the proposals will affect a number of streets.