Shy Keenan's son 'kept overdose drugs at Philip Morant school'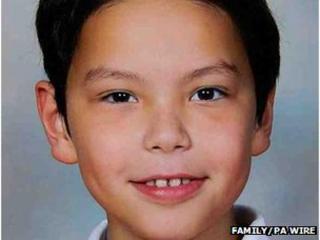 An anti-abuse campaigner has told an inquest her son died of an overdose of prescription drugs he had stored at school.
Ayden Keenan-Olson, 14, was found dead from an overdose by his father in bed in Colchester, on 14 March.
His mother Shy Keenan told the hearing in Chelmsford her son was bullied and assaulted for being gay, at Philip Morant school.
Essex coroner Caroline Beasley-Murray recorded a verdict of suicide.
Ms Keenan, founder of the Phoenix Chief Advocates' Consultancy, said Ayden had earlier tried to take his own life in October 2012, by overdosing on prescription drugs.
She said he had stored them at the Philip Morant School in Colchester, although a school spokesman denied any knowledge he had done so.
'Safety a priority'
The day before he died, he had seemed fine, with no "signal" anything was amiss, Ms Keenan told the hearing.
"My job is to protect kids online but I couldn't keep my own son safe," she said.
She told how Ayden had worked out how to bypass the security controls on the home computer to research how to kill himself on the internet.
Det Insp Stephen Jennings told the court Ayden had been assaulted and called names.
Giving evidence, acting head teacher Robert James defended the school's policies for dealing with bullying.
"As a school, our first priority is to make sure our students are safe," Mr James said.
He said Ayden reported bullying on between 10 and 20 occasions, since starting at the school in 2010.