M11 trapped holidaymakers walk along carriageway with cases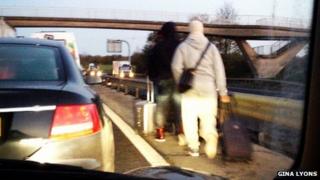 Holidaymakers who were stuck in stationary traffic on the M11 in Essex got out of cars and walked along the motorway dragging their suitcases.
The northbound carriageway was closed at 07:00 GMT between Junction 7 and Junction 8 for Stansted Airport after a lorry shed its load of cabling.
BBC Travel said more than a dozen 50ft (15m) lengths of steel cable fell off the back of the lorry.
All lanes of the carriageway have now been reopened.
Adam Pipe, Essex Police casualty reduction manager, said the number of people seen walking along the motorway during the closure earlier in the morning was a concern.
"Obviously motorway locations are very, very dangerous at the best of times and public safety is paramount," he said.
"I really accept people's frustration - incidents in this area will always impact on the airport."