Dovercourt roller-skating rink faces closure after injury claim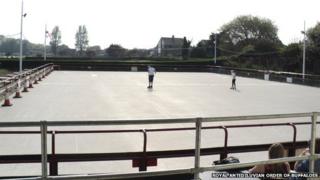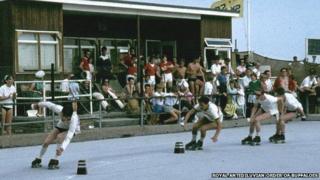 One of Britain's last outdoor roller-skating rinks could close by Christmas after a compensation claim caused its insurance costs to quadruple.
The 1940s-built rink at Dovercourt in Essex experienced a revival when it was taken over by volunteers in 2010.
But an out of court settlement for an ankle injury has caused the rink's insurance to climb to £12,000 a year.
Volunteer John Brown said the claim had "completely killed us" and they could close by Christmas.
The rink fell into disrepair after it shut in 2005, but reopened five years later following a £30,000 revamp from the council and the Royal Antediluvian Order of Buffaloes.
'Help the community'
Mr Brown, from the group, said thousands of people have used it since, but last month insurers opted to settle out of court after a person was injured on a ramp in 2011.
Since then, CCTV and extra warning signs have been put up at the rink, with people also being made to fill in disclaimers before using the facility.
But the claim has meant the volunteers are now paying out £3,400 a month to keep it open.
"It's completely killed us. It's left us very, very short," said Mr Brown.
"All we want to do is help the community - people around here cannot afford very much and we don't want to put the prices up.
"In the holidays we can have 1,000 people skate here every week and we've given more than £10,000 to local charities.
"We've got the money to pay for this month, but by Christmas it will probably be closed, because we can't just keep putting in."
Conservative Harwich and North Essex MP, Bernard Jenkin, said he would explore "many different avenues" to try to keep the rink open.
Peter Halliday, leader of Tendring District Council that leases the rink, said: "We are working with Mr Brown and have suggested what he can do to reduce his insurance costs considerably."