Storm-hit Clacton Pier helter-skelter 'back in 2014'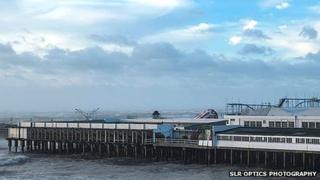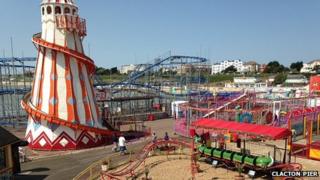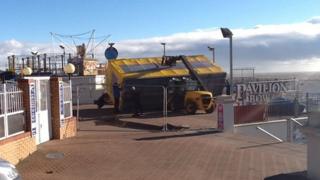 A 75-year-old helter-skelter that collapsed on an Essex pier during last month's storm will be "back in 2014", its owner has said.
The Clacton Pier attraction "buckled in the middle" when the coast was hit by 80mph (129km/h) winds.
The pier's administration manager Sharon Charters said experts had now assessed it and were confident it could be repaired for the next summer.
Rebuilding work has begun in a workshop on the pier.
Ms Charters said the ride was "lifted up" by the wind in the early hours of 28 October, causing the supports in the middle to snap.
She said the base, middle and top of the ride were damaged but all parts were salvaged and none of it fell into the sea.
Ms Charters said it was not yet known how much the repairs would cost.
The pier did not suffer any structural damage in the storm.