Driving group in Essex County Council resignation call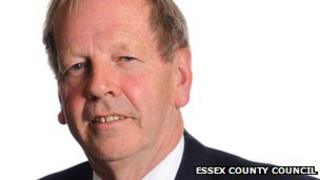 A driving group has called on a councillor who claimed against his own council after his car was damaged by a road to step down.
Rodney Bass, the councillor in charge of highways at Essex County Council, told the BBC he had put in a claim against his own council.
The claim, he said, was turned down by the Conservative-run council.
The Colchester and District Association of Driving Instructors said it was "amazed" the claim was ever lodged.
Mark Cole, spokesman for the association, said: "We feel it is improper for any councillor to make a claim against a department that he works for.
"That Mr Bass has done so is an affront to the travelling public.
"Given the state of the roads, Mr Bass's refusal to engage and his sheer arrogance in claiming for something he has failed to address, we call on him to resign."
Mr Bass is yet to comment on the association's call and has not provided further details about the nature of his initial claim.
Speaking previously to the BBC, Mr Bass said: "I do have every sympathy with people who suffer damage or injury as a consequence of any problems on the road.
"It is unacceptable that that should be the case. I feel that very deeply.
"I have damaged my own vehicle, and I've actually tried to get reimbursement, and failed to get reimbursement for my own vehicle on a serious defect."