Colchester Hospital: Mackenzie Cackett's mother demands answers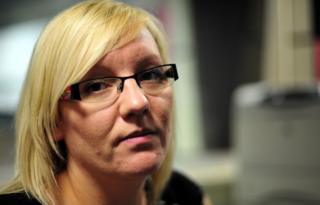 A mother has questioned whether her four-year-old son might still be alive had Colchester Hospital diagnosed his spine cancer sooner.
Mackenzie Cackett went to the hospital four times in seven months before he was diagnosed. He died last year.
Police are investigating the hospital after the Care Quality Commission (CQC) found cancer treatment data errors.
A spokesman for the hospital said a review of Mackenzie's treatment was underway.
Although his case was not one highlighted by the CQC, Mackenzie's mother Danielle Uren said she wanted answers and a full investigation into cancer care at the hospital.
Mackenzie was two when he started having headaches and being sick on a daily basis in the summer of 2010.
Ms Uren claims hospital staff did not take her concerns seriously and failed to follow up on appointments and referrals.
The original MRI scan which detected the tumour, she said, was delayed by two weeks.
The four-year-old died four months after a tumour was removed from his spine.
Ms Uren, of Halstead in Essex, said: "We knew there was something wrong but we were ignored and that may have cost our son his life.
"So it didn't come as a big surprise to me that there could be a wider scandal.
"I just feel like no-one has been held accountable and all we have received are just feeble apologies. We just want justice.
"It seems to me that lives were put at risk for waiting time tables and that just isn't right. Mackenzie deserved so much more."
She says she is "still very angry" but is now "more focused".
"Now is the right time to put that anger forward constructively and try to get some answers," she said.
"As a parent you will always wonder what if he had the scan earlier? As everybody knows with cancer, the earlier the diagnosis, the better the outcome.
"I would never step foot in that hospital again unless in dealing with my complaint - I don't trust them at all."
A spokesman for the hospital said the external review into Mackenzie's care had been arranged by medical director Dr Sean MacDonnell.
"Mackenzie's family are aware of this and we have asked them if there are any particular questions and issues they would like the review to cover," the spokesman said.
"The trust, again, wishes to extend its condolences and sympathy to the family for their loss."