Colchester's landmark Jumbo water tower plans rejected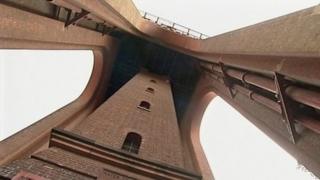 Proposals to develop a Victorian Grade I listed water tower in Essex have been rejected by councillors.
Developers hoped to create an observatory, museum, offices, flats and a restaurant in the tower - known as Jumbo - in Colchester.
Although the plans were recommended for acceptance by planning officers, they were rejected by the Colchester Borough Council planning committee.
Jumbo was decommissioned by Anglian Water in 1987.
Owner of the water tower George Braithwaite said he was "disappointed" the plans had been thrown out.
"I've been developing buildings for a long time and I believed that was the best option for that building," he said.
"I've put a lot of time and effort into this project... it's unfortunate my efforts have been thwarted."
Labour Councillor Tim Young, portfolio holder for planning at the council, believed the plans were rejected because of the harm that could be done to the listed building.
He said: "It's a contentious and controversial subject.
"It's... part of the Colchester landscape and that's why the planning officers who are very skilled and professional recommended it for approval.
"But by seven votes to three, the planning committee decided there was too much harm to the structure for it to go ahead."
However, Brian Light, from the group Save Jumbo, who has been campaigning to repair it and develop an exhibition space, allowing guided public tours, said the committee had made the right decision.
"I'm absolutely delighted," he said.
"We've got one opportunity here in Colchester to keep one original Victorian water tower... it's the story of how clean water came to Britain and it's hardly ever told.
"And Jumbo could tell it."