The Deanes School: Recommendation for closure 'outrageous'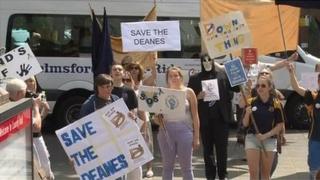 A recommendation to close an Essex high school because of falling pupil numbers has been described as "outrageous" by one councillor.
The Deanes School in Thundersley, Benfleet, could shut in 2016 if county councillors approve the recommendation.
Essex County Council officers have suggested the site should be closed due to the decline in numbers.
Basildon Council deputy leader Phil Turner said closure would "cause a huge headache".
The Deanes now has 600 pupils, and 418 spare places compared with 95 empty spaces in 2010.
A report for the county council has questioned the "viability" of the school.
Good rating
It said the "decline" was "forecast to continue over the coming years".
But Mr Turner said he was "dumbfounded" by the recommendation which is due to be debated next Thursday.
"Everybody is so angry about this because the school is viable, now and for the future," he said.
"It's going to cause a huge headache yet [the] county [council] seems intent on going forward and shutting it.
"Every consultation from everybody you want to ask will say, 'keep the school open,' and it's not just people's feelings.
"It's based on fact and figures and the number of houses that are going to be built in the borough in Basildon, Southend and Castle Point and the surrounding area."
The report said that despite a good Ofsted rating, parents preferred to send their children to The Appleton School and The King John School, which had both received outstanding Ofsted reports.