Harlow Islamic centre arson: Four men freed from bail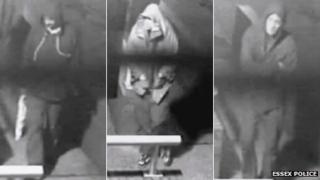 Four people arrested over a fire at an Islamic centre in Essex have been released from bail, police have said.
Two 16-year-old boys, a 17-year-old boy and a 28-year-old man, all from Harlow, were questioned over an attack on the Harlow Islamic Centre on 26 August.
The centre, set up 18 years ago and which serves about 2,000 Muslims, was left "charred" around its doors.
Police released CCTV showing three men seen near the centre, in Paringdon Road, shortly before the arson.
One was holding a drill, while another was holding what police believe to be a canister of insulation foam.