Danny Mayzes migrant 'Machete' Twitter probe: No police action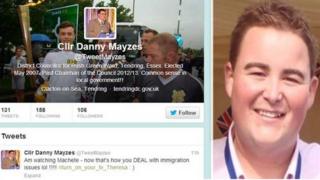 A councillor who tweeted to say a violent revenge film showed how "immigration issues" should be dealt with will not face prosecution.
Danny Mayzes was suspended from Tendring District Council's Conservatives and faced a potential criminal investigation over the remark.
He tweeted "now that's how you DEAL with immigration issues lol" after watching a film called Machete.
An Essex Police spokesman said no action would be taken.
"Following consultation with the Crown Prosecution Service, there will be no police action taken against a Clacton councillor who conveyed views on Twitter about immigration," the spokesman said.
'Silly mistake'
Mr Mayzes, 25, from Clacton in Essex, has since deleted his Twitter account.
"I sent the tweet, there's no denying that," he said. "It's a hands up thing, a silly mistake.
"Of course, I regret doing it. It wasn't a very sensible thing to do and doesn't reflect my character. I feel buoyed by the many comments from people who have said that."
He became Tendring District Council's youngest chairman last year but stood down from the role in May.
The council's Conservative group ruled on Tuesday that Mr Mayzes should remain suspended from the party until the new year.
The party found that Mr Mayzes was in "breach of sufficient group rules" for his suspension from the party to continue.
Peter Halliday, leader of the council's Conservatives, said: "It was therefore formally proposed by myself and agreed by the group that councillor Danny Mayzes would remain suspended from the group until next year.
"It was further agreed - with the agreement of Danny - that he would refrain from Twitter and Facebook for the same period of time."
Mr Mayzes added: "I will hopefully come back as a better councillor who clearly understands the repercussions of silly errors. The lesson to young councillors out there is that technology can be dangerous. It's a new thing and it can come back to bite you."
The council declined to comment.