Colchester Zoo's storm losses 'getting on for £100k'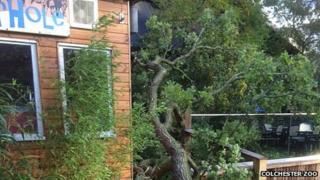 A zoo which closed due to Monday's storm says its losses for the day are "getting on for £100,000".
Severe wind tore off part of the roof at Colchester Zoo's orangutan enclosure and damaged other enclosures and catering outlets.
A spokeswoman said at least £50,000 was lost in admissions and repairing the damage could cost £30,000.
She said it was a "severe setback", but it was hoped losses could be made up during the rest of half term.
None of the animals escaped or were hurt in the storm, but gale force winds blew off roofs and caused 12 trees to fall, damaging buildings around the site.
The zoo has reopened but the orangutans are not being put back on show until Wednesday at the earliest.
The zoo said it had been expecting more than 6,000 visitors on Monday.