Clacton Pier helter-skelter needs 'rebuilding from scratch'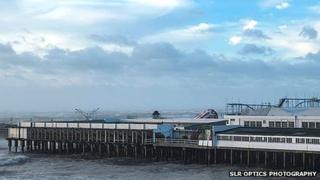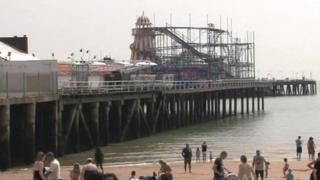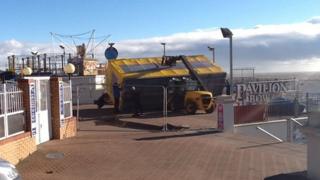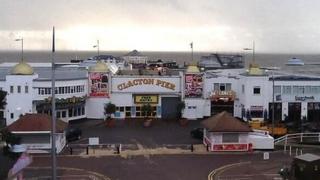 Clacton Pier's 75-year-old helter-skelter will need "rebuilding from scratch" after high winds battering southern Britain brought it down.
The ride was blown down early on Monday when the Essex coast was hit by 80mph (129km/h) winds but no-one was hurt.
Administration manager Sharon Charters said it had "buckled in the middle", but was confident it could be repaired.
Experts on such rides are due to arrive later from around the UK to help assess the damage.
No structural damage
Eyewitness Jon Dawrant said he was taking photographs when he heard a "massive crack" and the helter-skelter toppled over at about 07:30 GMT.
Ms Charters said the ride was "lifted up" by the wind and the supports in the middle snapped, causing it to collapse.
She said both the base, middle and top of the ride had been damaged, but the pier was going to do "all it could" to get it repaired.
"Luckily it fell into the centre of the pier. If it had fallen into the sea I doubt it would have ever been recovered," she said.
The other outdoor rides appeared to be intact and were expected to reopen fully later following final safety checks, she added.
The pier has not suffered any structural damage.
A council spokesman expressed sympathy at the collapse of the helter-skelter saying: "Any of the main rides on the pier are crucial to Clacton."