Colchester Zoo's orangutan enclosure hit by UK storm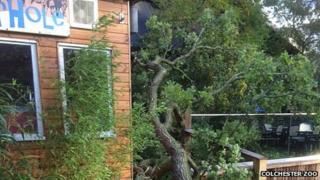 Severe wind has torn off part of the roof at Colchester Zoo's orangutan enclosure.
None of the animals escaped but the zoo said gale force winds caused damage throughout, with its Orangutan Forest being badly hit.
Twelve trees also fell striking other enclosures and some catering outlets.
A spokeswoman said the animals were unharmed and had been moved into their shelter. The zoo is due to reopen on Tuesday.
Its Halloween events scheduled for later have been cancelled.
The zoo said it had been expecting more than 6,000 visitors on a half-term Monday but the enforced closure because of the storm meant it would suffer a "huge loss".
A spokeswoman said staff were working hard "to fix all damages for the zoo to open as usual on Tuesday".