Clacton Pier helter-skelter blown down as storm hits Essex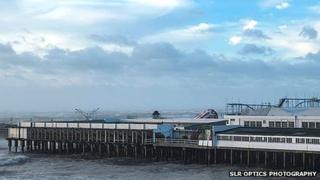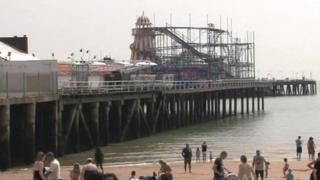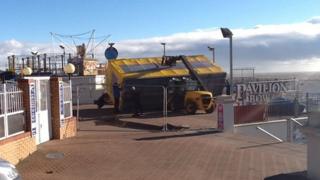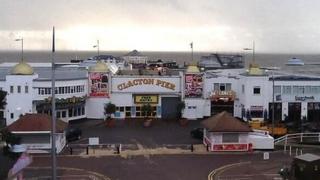 The helter-skelter at Clacton Pier has blown down after Essex was hit by strong winds.
The structure collapsed early on Monday morning but has not fallen into the sea, Tendring District Council said.
Photographer Jon Dawrant was out shooting when he heard a "massive crack" and the helter-skelter toppled over.
The pier's operator said no-one was hurt. Other outdoor rides have been shut, but parts of the pier are open.
Mr Dawrant said: "I thought the wind was going to lift it off and topple it into the sea, but fortunately it just settled where it was."
'Crucial to Clacton'
BBC Essex reporter James Waterhouse said other amusements had also been hit, including a climbing frame with a ball pit which toppled over.
The pier's operator said it had now safely dismantled the helter-skelter and it would be surveying the damage in more detail.
It said it was "committed to re-building and repairing the damaged ride and continued to be hopeful that this would be achievable".
It added the pier itself suffered minor damage, but it should be largely repaired by Wednesday. The rollercoaster has not been affected.
A council spokesman spoke of the authority's disappointment at the helter-skelter collapsing, saying: "Any of the main rides on the pier are crucial to Clacton."
Elsewhere, metal sheeting was also seen being blown off the pier at Walton-on-the-Naze.
Colchester Zoo has also closed following storm damage, but it is due to reopen on Tuesday.
A flood warning has been issued to the River Witham in North Witham, with the Environment Agency telling people to take precautions.
Tendring council said because so many trees had fallen down in the district, it was "running out of chainsaws".
The storm has affected commuters in Essex, with most rail services throughout the county being suspended.
A lorry was also blown over on the M11 near Harlow, causing congestion, and the Queen Elizabeth II bridge between Essex and Kent was shut temporarily, but has now reopened.
Flights are operating at Stansted Airport, but trains to it have been delayed.
Essex Police has set up two emergency lines for all weather calls, including emergencies - 0800 092 0410 and 0207 158 0124.