Essex Police sacks 999 call handler Sue Heeney for 'laughing'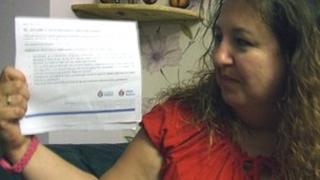 A 999 call handler was sacked for "laughing unprofessionally" with a nervous caller.
Sue Heeney, 38, who worked as an Essex Police call handler, is now appealing against the dismissal.
She was sacked after taking a call from a man reporting a relative for drink driving who he thought may have been in a crash. At one stage the pair joked.
The force said she was "unprofessional" in "laughing with the caller" and had graded the incident wrongly.
She said the man was nervous about calling because "he knew what the repercussions" would be to his relative.
Ms Heeney, who worked as a call handler with the force for five years, says she was building up a "rapport" with the man to put him at ease and to enable her to take down the information needed.
During the call, a copy of which has been heard by the BBC, the male caller struggles to remember the phonetic alphabet for the letter "E" while telling Ms Heeney the man's car registration number.
When Ms Heeney, of Marks Tey, near Colchester, tells him it is "echo", the caller starts laughing and she laughs as well.
'Wrong grading'
But her handling of the call, Essex Police say, was negligent - an allegation strongly disputed by Ms Heeney.
In her dismissal letter - seen by the BBC - Essex Police describe her laughing as "unprofessional".
The force also said she should have graded the call as a "road traffic accident - fail to stop".
However, Ms Heeney said when the man called he only said there "might" have been an accident, all he knew was there was damage to the relative's car.
As a result, Ms Heeney said, she decided to grade the call under "suspicious circumstances".
Ms Heeney maintained she was correct in her grading of the incident, claiming the fact there had been two collisions while the caller's relative was behind the wheel, was not known at the time.
"I only acted on the information he had, which was minimal," she said.
Ms Heeney was suspended in December following the call on 9 November. She has appealed against the decision made in July to dismiss her.
"I'm devastated by this," she said.
She and her partner Scott Findlay have put their home up for sale because of their loss of income.
A spokeswoman for the police force said "the fact that the drink driver was subsequently imprisoned" showed the seriousness of the initial call.
She added: "The failure to properly assess the gravity of this incident led to her being investigated by the force's professional standards department.
"We can confirm the civilian member of staff was dismissed from the force for gross misconduct following an allegation of negligence.
"An appeal against the dismissal has been made and it would be inappropriate to comment in detail at this time."